The Purely Waxing story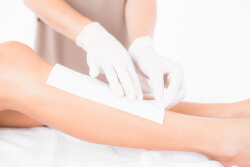 Purely Waxing was founded by the owner, Sarah. Sarah originally trained as a beautician before retraining as a nurse. After spending 8 years as a nurse in various clinical settings, Sarah decided to return to her original passion for beauty.
Having been for waxing treatments at "The Brazilian Waxing Company" and then working at the busy Manchester city centre waxing salon "The Waxing Studio", Sarah realised that with her training and experience in both a clinical environment and in the beauty industry she could provide a better service, and at a cheaper price.
While working at the city centre waxing salon, Sarah spoke to many customers about the difficulty they had in finding a waxing salon that offered intimate waxing, and even then the customers would often complain of a poor experience or high prices. Based on this feedback and her own experiences of trying to find a high quality waxing salon in Stockport or Manchester, Sarah decided to set up Purely Waxing to specialise in all intimate waxing for clients across Stockport and Manchester.
Sarah's vision for Purely Waxing isn't just to make it one of the top 10 waxing salons in Manchester, but to make it the best waxing salon in Manchester. Since Purely Waxing opened we've been given nothing but positive reviews for the great waxing experience people receive. If you've not yet been for a waxing treatment at Purely Waxing you should read our guide on what sets Purely Waxing apart from other waxing salons.
Now, with Purely Waxing going from strength to strength, Purely Waxing carry out many intimate waxing treatments each week. We regularly perform Hollywood waxing and Brazilian waxing, as these intimate waxing treatments are by far the most popular waxing treatments at the moment. When we're not performing intimate waxing we also carry out leg waxing, arm waxing, brow waxing, full body waxing and any other type of waxing you can think of! If it's got hair on it, we can wax it!