Bikini waxing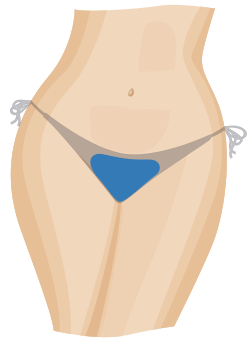 Price: from £12
Your treatment
Bikini waxing covers everything from the basic bikini, for looking good in your swimwear, to a full Hollywood wax, for looking great in anything or nothing! If you need more info on exactly what each bikini wax involves, take a look at our visual guide to bikini wax styles or get in touch for some advice.
When you arrive your fully qualified waxing technician will discuss your treatment with you. This gives you the opportunity to let them know exactly what you want doing and exactly which areas you'd like waxing, or leaving.
Why choose Purely Waxing
Intimate waxing is our speciality. We take great care in our choice of wax and waxing technique to make sure that you get great results from your waxing treatment. We've carried out more bikini waxes than we can count and never had anything but good reviews from our customers.
While some beauticians may also be expert waxers, more often than not we hear stories about less than perfect waxing experiences at beauty salons offering a range of treatments. As we focus purely on waxing and don't offer other beauty treatments you're guaranteed that the waxing technician who waxes you isn't an untrained beautician standing in during a busy day. At Purely Waxing we pride ourselves on really knowing our stuff and making sure that you get the best wax every time.
What our customers say
My first ever time having an intimate wax. Sarah was fantastic and completely put me at ease. We had a laugh and giggle through remained professional. Sarah, you'll be seeing me again. Thank you

Posted by Louise Scott on Wednesday, 13 July 2016
Which bikini wax
Bikini waxes come in all shapes and sizes and even us professionals can struggle to keep up with the pace of new names of styles coming out every day. By now you've heard of a Brazilian wax and a Hollywood wax, but what about a French wax - similar to a Hollywood but leaving the bum alone - or a Californian wax - yet another name for a thong wax? The thong wax also gets called a Gstring wax, extended bikini or full bikini wax, and before you know it you've ended up with more or less hair than you'd planned - leaving you either bushy or bald!
At Purely Waxing we're here to help you strip back the jargon and cut through the jungle of waxing terms that we suspect have been imagined by greedy waxing salons trying to hike up prices by creating fancy new names for the same old treatments. We've created a handy illustrated guide to intimate waxing that should set the record straight about exactly what to expect when you ask for a bikini wax, thong wax, Hollywood wax or a Brazilian wax. We also make sure we keep prices simple. If you want the last strip of hair removing to go from a Brazilian to a Hollywood we don't add on an extra fiver for the privilege, we charge you the same price for both. In fact, often it's quicker and easier to take everything off than to shape and style a landing strip, so we think it's quite cheeky that other salons charge you more for this!
Whatever your waxing preference we're able to provide you with an intimate wax that matches exactly what you want. Rather than list hundreds of variations on the same thing we take the personal approach and actually take the time to discuss your treatment with you. If you want a Brazilian wax and want a bit more than a strip left then that's fine, or if you just want a Hollywod doing at the front and underneath but leaving your bum then that's ok too! It's your waxing treatment done your way, not done from a list of what a salon owner thinks everyone should have. We're here to make sure that you, our client, are happy and satisfied with your treatment so that once you've been for the first time you'll not want to be waxed anywhere else.