Waxing in Stockport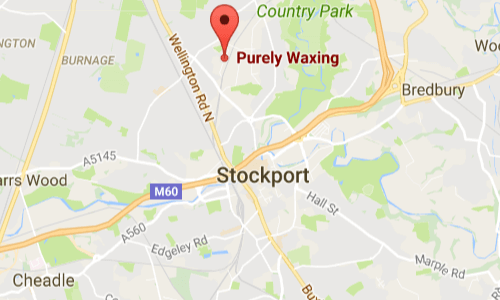 If you're like most of our new customers you've been doing one of two things. Either you've been making do with getting your waxing done at a do-it-all beauty salon, or you're a waxing 'connoisseur' and have been making the effort to travel further afield than Stockport to a specialist salon and paying city centre prices and parking charges in the process. With Purely Waxing now open in Heaton Chapel, Stockport you can get the best of both worlds and have expert waxing done locally in a dedicated salon with convenient free parking.
Customers often tell us how pleased they are to find a great local salon providing professional waxing services that they'd previously only been able to get by going into the city centre.
Most painless wax I've ever had with great results. Lovely friendly service!

Posted by Susan Jones on Tuesday, 4 May 2021
We differ from other salons in Stockport. Instead of providing all types of beauty treatments we focus purely on waxing – hence the name. Having looked at what other beauty salons are offering in and around Stockport, we're confident you can't get a better waxing experience.
Most other Stockport beauty salons offer a variety of services and don't specialise in waxing, which often results in salon staff who specialise in other treatments – nails or hair for example – doing a bit of waxing on the side. At Purely Waxing we exclusively provide waxing and nothing else! This guarantees your treatment will be carried out by a waxing specialist with expert technique, using high quality wax. This eliminates most of the causes of soreness and irritation you may have previously experienced from poor waxing technique and cheap wax.
As well as focussing on providing the best quality waxing we also offer the broadest range of waxing treatments in Stockport. We specialise in intimate waxing – bikini, hollywood, brazilian and the like – which many Stockport beauty salons don't offer or don't do very often. What you want is someone who knows what they're doing when you're having the hair removed from your most intimate areas, not someone who can't remember the last time they did it!
If you can't see the exact name for the treatment you're after then don't worry. We can wax any area you need or tweak any treatment to take off a bit more or less hair as required.
So if you were thinking of traveling into Manchester city centre from Stockport for your waxing, think again as you've now got a dedicated waxing salon on your doorstop. Purely Waxing is based in the middle of Heaton Chapel, Stockport. We get customers from all over the Manchester and Stockport area coming to the salon and we're only a few minutes away from Cheadle, Cheadle Hulme, Hazel Grove, Didsbury and Denton so you've no excuse not to if you live there! While most of our customers are local, we even have a few dedicated customers who travel over an hour, as they wouldn't get their waxing done anywhere else!