Waxing in Manchester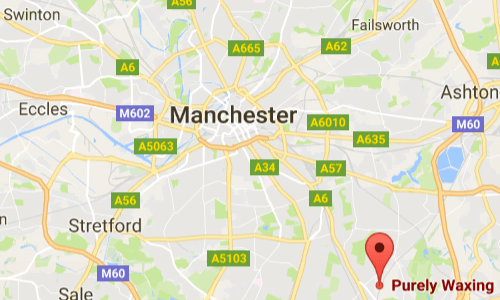 Based in Heaton Chapel, Manchester, Purely Waxing is a boutique waxing salon. Rather than providing a variety of beauty treatments, we focus on giving the best waxing experience in Manchester - providing a full range of waxing treatments. Having looked at what other waxing salons offer in Manchester we're confident that at Purely Waxing your waxing experience will be exceptional!
Your personalised treatment will be carried out by a waxing specialist and not by a nail technician or a tanning operator - unlike at some beauty salons. At Purely Waxing we only offer waxing! We pride ourselves on being able to wax even the most sensitive skin and can cater to all skin types. Our clients, particularly those with sensitive skin, have commented on having less irritation and a more comfortable experience at Purely Waxing than at other waxing salons in Manchester. If you want to know what makes Purely Waxing one of the best waxing salons in Manchester we've put together a must read guide to what we do to get consistently happy customers who wouldn't go anywhere else for their waxing treatments.
Offering Brazilian and Hollywood waxing, Purely Waxing is one of the few waxing studios in Manchester to offer intimate waxing. The amount of hair you have removed is up to you. A hollywood wax removes all hair, giving that completely clean look. For a little bit left at the top, a 'landing strip', you can have a brazilian wax. Full advice on your intimate waxing requirements can be given. If you're new to waxing or your a regular waxer who's considering an intimate wax we've written a guide to help you decide which intimate wax is right for you.