Hollywood waxing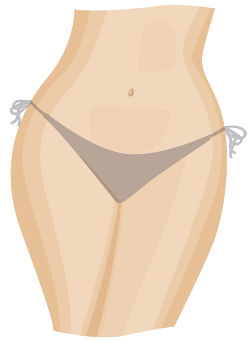 Price: £25
Your treatment
A Hollywood wax removes all hair from your pubic area. The front, underneath, in and around the labia and between the buttocks will be waxed, leaving you feeling smooth and clean.
Your expert waxing technician will discuss your treatment with you. You can tell them exactly what you'd like removed or if there are any areas you'd prefer not to be waxed. Whatever your needs we can tailor your treatment to you.
Why choose Purely Waxing
If you're looking for a great Hollywood wax you're in good hands! Our friendly professional salon specialises in intimate waxing and Hollywood waxing is our most popular treatment.
Purely Waxing is a dedicated waxing salon, so you know that your treatment will be performed by an expert waxer, and not someone who's just standing in.
What our customers say
I've been going to Sarah for about a year now and I wouldn't go anywhere else. She is so lovely and professional, highly recommended!

Posted by Kayleigh Anne on Friday, 20 September 2019
About intimate bikini waxing
Intimate waxing has taken off in recent years, as women fed up with shaving have sought out ways to stay smoother for longer with less hassle. We're not going to lie to you, it's rare that it's completely painless, but you may be surprised to hear that most of our customers find it less painful than other areas, like having a leg wax. If you've tried other forms of hair removal and haven't been satisfied, then book in with us for a waxing appointment and we'll make sure you leave satisfied.
Our customers tell us that they book a Brazilian or a Hollywood waxing treatment as they like how they feel without unnecessary hair - clean and smooth. The other reason people tell us they book in for bikini waxing is for their partner's benefit. We're told that our customer's partners, the men and the ladies, appreciate the look and feel of a smooth intimate wax, so it's not just you that will benefit from an intimate wax.
We do get some customers who will usually have a basic bikini wax as part of their regular waxing treatments who then book in for an intimate wax for a special occasion, but most of our intimate waxing customers book their Hollywood or Brazilian waxing regularly to stay smooth. If your intimate hair removal usually consists of a basic bikini, why not try a more intimate wax and see why it's so popular!
Our waxing salon is based in easy reach of Manchester and Stockport in Heaton Chapel. We've had customers comment on the ease of parking compared with city centre salons, and we're close to the train or bus if you're not driving.